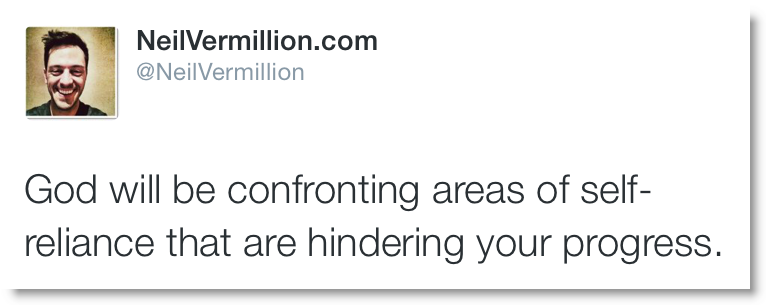 Understand this, many of
these training exercises
will feel like pain. They will not be easy. They will not be fun. For these exercises will be working to develop your reliance on me. They are not designed to make you stronger, but rather designed to help you become more aware of your weakness, and to acknowledge your need for me. And these exercises are designed to remove the deception saying of the lie saying, "I'm strong enough already. I can do this. I am self-sufficient."
For so many of you have built foundations on reliance of yourself. You have built your hope, and future, and security upon your own strength. And your own strength will not be able to sustain you. So understand, these are the very issues I will be confronting in the days ahead as part of your preparation. These issues will be brought to the surface through these training exercises.
Remember, one of the primary objectives of these trials and exercises is not to build strength in yourself. Your primary skill will be in hearing from me, and in following me. Your best skill will be to obey what I show you, as you listen to my voice. For many of you this is completely foreign, for you do not even know me. So I will help you. Though you resist me, and though you don't want to cooperate, I will help you still. For I am committed to you, and I am invested in you.
But this removal of self-reliance will feel like death to you. Though it will be life, it will be death to your old man. It will be death to your former way of living, and your former way of thinking. It will be death to the Adamic nature within you. As such, part of these exercises will be to confront these issues of dominance and control, but they will also be to brought about to help you put to death your old self in areas where he still rules and reigns within your heart, and within your mind, and within your soul.
And some of these areas are unknown to you. You don't even know it or perceive it. But that's OK. Because I will expose them. I will show you. I will show you, and I will help train you and correct you. So don't concern yourself about areas of weakness that are presently unknown to you. For everything will be exposed, and everything will be addressed in due season.
With all this in mind, do not be surprised if this feels like death. For surely you will have to put to death the misdeeds of the body, and submit yourself to my spirit and my leadership, and pick up your cross. For as long as you walk in self-reliance you will resist me. And as long as you deny your need for me you will not fully follow me. You will be double-minded, and divided attempting to serve two masters.
So these exercises will bring all of this to the surface, and these exercises will help give you ample opportunity to make your choice and to put to death the Adamic habits still operating within you. So rejoice. For in all these things you will be perfected.


Though this may sound hard, it will be to your delight. Though it may sound like death, it will be for life more abundantly, life forever more. So rejoice, and take heart, for these things will bless you. These things will be so good for you. These things will set you free!
Click here to share this with your friends on Twitter.