In early February of 2012 God began to revive a motive within my heart from something he spoke to me a few years earlier. It had to do with prophesying to individuals, not just giving corporate words for groups.
Honestly, this is where I got my start. My first experiences in prophetic ministry started with giving personal prophecies for people, one at a time (it has only been since January of 2014 or so I started releasing prophetic words to groups of people, publicly).
So after a bit of contemplation and thinking it over, and a lot of confirmation from Holy Spirit, I've decided to say yes to this direction God is steering me towards. With this in mind, I'm announcing I will be giving personal prophecies (also know as, "personal prophetic words") on a regular basis – monthly, in fact. If you're interested in receiving a prophetic word from God, keep reading.
This is something that's been on my heart for a few years, and recently I have been reminded how this is also on God's heart, as he desperately wants to speak to his children. There are occasions in which I'm overwhelmed how much God's heart burns with desire to talk to his dearly beloved children. He has so many, wonderful things to say, and he knows us all so intimately. It's truly amazing.
So it is from this perspective I'm saying yes to this call, and following in obedience by making personal prophecies available now. I know first-hand how influential a prophetic voice can be in one's life. So it is with humility I'm offering myself to speak in to your life under God's direction, with your permission and cooperation. Yes, I'm going to make this available to anyone who is interested.
So now that I've said yes – yes to God's will for my life to give personal prophetic words for individuals in this season of my life – all I need now is to find people willing to receive, listen, and hear what God is saying to them. And this is where you come in.
If you feel this is something you are interested in, let me encourage you to take action and do not delay. Due to the time-intensive nature of this kind of service I won't be able to accommodate everybody. There are just too many people, and not enough hours in a day. So I'm asking God to move on hearts to direct people if it is, in fact, his will for them to receive these prophetic words on a monthly basis.
If this is sounds like you, keep reading…
Who Is This Right For?
This will be right for basically anyone who loves God. Anyone can benefit from it. However, I've listed below the people who would get maximum benefit from this kind of ministry:
Anyone seeking confirmation about circumstances and/or relationships in their life.
Anyone not sure as to their gifts and/or callings upon their life.
Anyone looking or additional insight and/or an outside, objective voice to confirm things.
Anyone who is in a transitional phase.
Anyone who would like to know about their future and destiny in God.
Here's What You'll Get…
Each month you'll receive a pdf document of the personal, prophetic word which will be emailed to you upon its completion. This way you'll have everything written out, which will allow you to read it over and over again, line by line, word by word. It will serve as a document you can refer to again and again for years to come.
The document will be approximately 1,000-1,200 words, which is roughly 3-4 pages, so it's not a brief line or two, or even a paragraph or two. It's a full-length, meaty word, full of details, confirmation, impartation, and revelation.
Having your personal prophecy written out is hugely important, and of course, valuable. Writing it out helps to prevent things from being forgotten. The second thing a written prophetic word does is allows you to examine its contents line by line. The third thing it accomplishes is it helps focus your memory and concentration when you are meditating and praying about it. And the fourth thing a written prophetic word does is makes its content easy to share with others (i.e. – your pastor, parents, spouse, leaders, etc., etc.,).
This prophecy will be specific. It will be a very personal prophecy – not a generic word, but a personal prophetic word from the Lord concerning you. Now I can't say in advance what it will include because God could say anything. But I can promise you it will be specific and relevant to you, where you are currently, and especially where you are going. There's also a strong likelihood it will touch on things from your past as well, confirming things and helping to reconcile issues from your past as well.
What I will do is take time to sit before the Lord and inquire about you specifically – you as an individual. God loves to talk to his children, and he always has something to say. So if we make time to listen, he will speak. This is what I will do on your behalf. I will sit before the Lord and document what he tells me to tell you. I will write exactly what God gives me, the way he gives it to me.
It will be similar to the Daily Prophetic Words. However, these will be specific to you, where you are, where you're going, and where God's leading you, rather than speaking generally, as is the nature of prophetic words given corporately for groups.
If you've never experienced this kind of personal prophecy before, you will be amazed what God will say to you. Even if you've been around prophetic ministry before I can assure you, God will speak directly to the issues of your heart in a very profound and significant way, and I'm confident you will be blessed by receiving it.
But you don't have to just take my word for it.
Here is what other people are already saying…
(click the image to see a larger view)
"I was taken aback by the sheer volume of information…"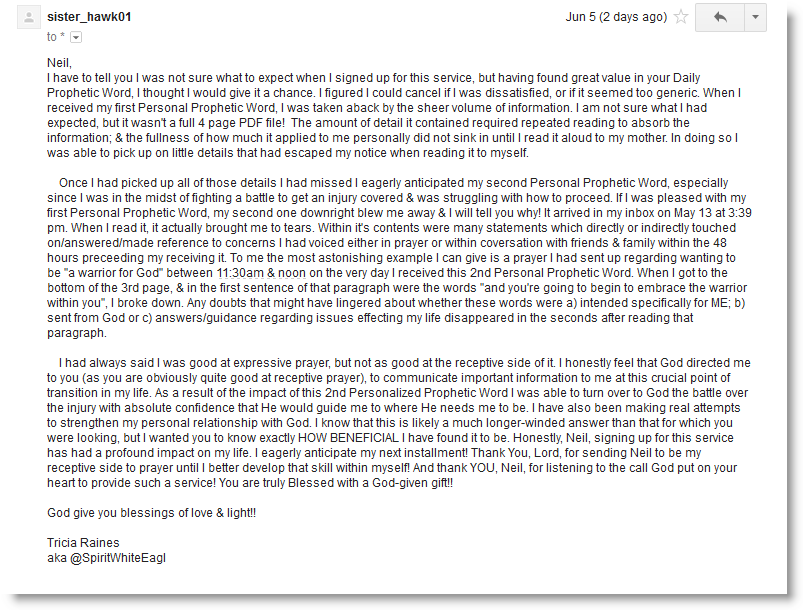 "I have a clarity now. I'm also excited about the future…"

"No words to explain how thankful I am…"

"I really needed the message you sent…"

"It has confirmed a lot…"

"always matches my inner witness and pushes and develops me…"

If your heart is stirred as you are reading these words, let me tell you to say yes to this stirring, because God is surely moving on your heart, inclining and inspiring you to move in this direction.
If you know someone who would benefit from this let me encourage you not to be shy about it, but share it with them and allow God to minister to them by speaking to them through prophetic ministry on a consistent monthly basis.
When You Will Receive It…
Each prophetic word will be emailed to you upon its completion each and every month. They will be processed in the order in which they were received from PayPal. The first people to sign up will be the first people to receive their prophetic word. This seems to me to be fair and reasonable, and I'm sure you'll agree.
You will receive your personal prophetic word within 30 days (or less) from the date of your payment, which may or may not fall within the calendar month. For example, if your payment is processed on the 12th of November, you will receive the pdf containing your personal prophetic word sometime on, or before, December 12th (which would be 30 days from the 12th of November when your payment was made).
Not Everyone Can Be Served…
My goal is to serve you to the highest level possible, by speaking directly to you all the things The Lord gives me to share with you. Therefore, this will be a limited offer because it's labor intensive. Obviously I can't offer this to every single person. There are just too many people, and I won't be able to serve everyone, unfortunately.
How Much Will This Cost?
To participate in this personal prophetic service you'll need to sign up via PayPal. The rate will be $50 US dollars per month, each month paid in advance. I realize not everyone has access to PayPal, but at this time this is the only option able to be offered.
The fee is to cover costs of creating the pdf specifically documenting, editing, and preparing everything for the recipient.
After payment has been received you will be added to the queue to receive your prophetic word. You should receive your personal prophetic word within 30 days from the time your payment was successfully processed by PayPal.
You are free to cancel any time, for any reason, from within your PayPal account. There is no kind of long term obligation on your part. If you decide you do not want to continue receiving a personal prophetic word month after month, all you have to do is cancel your subscription in your PayPal account.