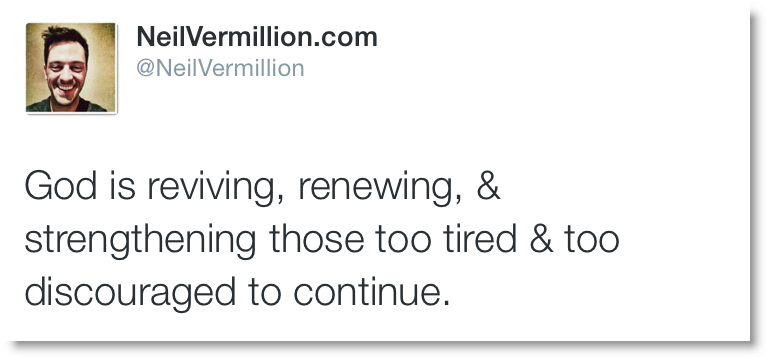 And though you find yourself in this season of expanse things are still not going as smoothly as you would like. But do not allow these obstacles, these trials and problems to steal your joy or obscure your perspective. For surely I am with you, and I am speaking to you clearly – more clearly than ever before. And you know I am with you, and you know I am guiding you and advancing you in the plans I have for you.
So though you grow tired, and discouraged from time to time, do not allow afflictions to cause you to lose your position, or lose your perspective. And when you feel tired, and lost, and you wonder if you should continue, stop and listen. For I will encourage you. I will speak to you. I will revive your vision, and I will renew your hope and your strength. For the path marked out for you is surely long. It will take a long time for you to finish. But as you draw your strength from me, you will find I am a reliable, unlimited source for you.
And I will pick you up when you fall. And I will whisper in your ear when you feel weary. I will strengthen you, and I will encourage you. So as you find yourself pressed and disappointed, come to me and I will make all these things new in your heart again. And I will sustain you and I will keep you. For you are on the right track. You are pursuing the very things I've set before you, and I know you are doing the best you possibly can. I know you are but flesh, vessels of clay, and I know you are limited. But as you come to me I will refill you, renew you, refresh you, and I will heal the hurts of your disappointments from delays and confusion.
Click here to share this with your friends on Twitter.