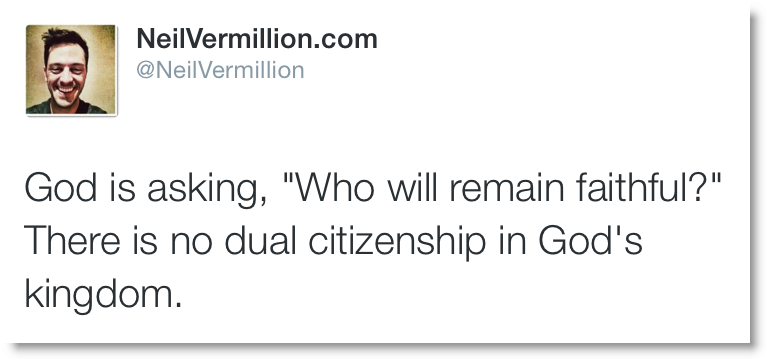 In these days I am speaking. In these days I am sending my message loud and clear. But who is listening? Who is watching? Who is waiting? For surely the signs are there for those whose eyes are open. And surely the music is playing for those whose ears can hear. And surely I am speaking clearly, but who has taken the time to know my voice?
In this Earth, who is listening? In this Earth who is remaining faithful? How many will fall away, and pursue to love of another? For I require faithfulness. I require devotion, commitment, and fidelity. You will not be able to be double-minded. There is no dual citizenship in my kingdom. You either belong, or you don't.
So choose this day whom you will serve. For I am asking, "On which side of the fence do you want to sit? Which side of the line do you want to stand?" The choice is yours. Make yourself ready. For the days are growing short, and the time is drawing near. The time of lazy leisure are drawing to a close, and the day is growing more urgent hour by hour.


And when I return to the Earth will I find faith? Will I find the faithful or will I find the unprepared? Will I find those who were unaware I was even coming, though I gave sign after sign, and message after message. When I return, who will I find?
Luke 18:8 "I tell you, he will see that they get justice, and quickly. However, when the Son of Man comes, will he find faith on the earth?" (NIV)
Click here to share this with your friends on Twitter.