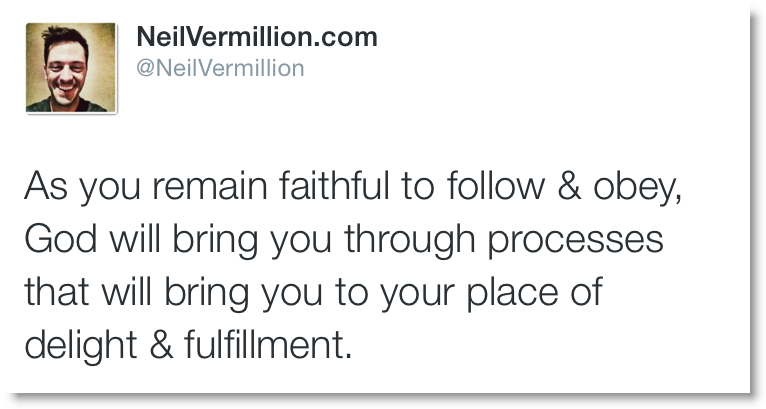 As you continue to remain faithful to the path set before, and remain faithful to the work set before you, I will continue to open up additional insights for you. The experience gained will be worthwhile. The things I will set before you are deliberate. They are precise. They are not random. They are not haphazard. So understand, these things are happening for a divine purpose to train you, to equip you, to propel you to new horizons.


But before you are moved to tomorrow you must conquer today. You must embrace all I have for you today. So while you decide follow me, follow me with tomorrow in mind, but keeping focus on today. For the lessons learned today are valuable and they will prepare you for tomorrow. The work set before you today is your training ground. It will equip you to accomplish and complete what you will need for tomorrow.
And as you continue to remain faithful, even in small things you I will be faithful to show you and teach you their worth. And over time, as you continue to put your hand to the plow without looking back, you will be surprised and amazed at all the things you've learned along the way. For many times you are unaware of the things I am teaching you. You do not always perceive the fulness of what is going on around you. Yet in spite of this, you will be learning, you will be growing, you will be absorbing, and you will be transformed as you continue to walk your path.
As you learn, as you grow in wisdom, more and more you will become aware of the value of each lesson. You will recognize the process and recognize my handiwork more quickly as you continue to follow day after day. And you will gain perspective and you will begin to see the pieces of the puzzle begin to assemble. For though you've seen parts, you've still not seen it all. There is still much more to come.


And you will be surprised, and you will be delighted. Your surprise will challenge you and test you, but it will also delight you too. As you move forward, doing the best you can, with all you have, you will experience the process and you will be changed. And this process of change will bear its fruit in due season. Over the course of time, you will be changed and the process will bring you to your place of delight and fulfillment.
Click here to share this with your friends on Twitter.